AIR DUCT CLEANING
Why air duct cleaning?
– indoor air quality
-HVAC efficiency
– Odor removal
– Less dusting
Debris in our air, such as skin cells, mold, dust, dirt, mildew, pet dander, aerosols, and many other contaminants, settle in our homes and in our duct work.
Every time the HVAC blower turns on, a cloud of particle dust blows back into our homes.
Studies have shown that the air inside our home is more contaminated than the air outside our homes and that there is a link between childhood asthma and indoor air quality.
These contaminants also affect the efficiency and longevity of our furnace.  A furnace is a large investment in our homes; therefore, we should care for it as such.  Cleaning the duct work and the furnace can prolong the life of a blower, heat exchanger, and coil, saving money over time and creating a healthier living environment.
Beware of low price scams.  Some companies lure in unsuspecting customers by offering ridiculously low prices (e.g., $99 air duct cleaning, limited time offer of $49.95).  Generally, these offers are a part of a bait and switch; they get into your home, clean a couple of vents, explain that the offer didn't include the return side of your HVAC system, and show you how bad it is.  Now they have taken your valuable time and haven't completed the job you wanted to be done.  You're frustrated, but you agree to pay additional money just to get it done.  Taylor Steamer will give you a rough idea of the cost over the phone according to the number of vents you have, then we will come out to inspect your system, firm up the price, and set up an appointment for your cleaning.  We make sure to give you an accurate cost, to allow ourselves enough time to do a proper, high quality, thorough cleaning job; a typical duct cleaning will generally take between four to eight hours.
---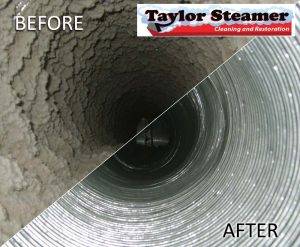 ---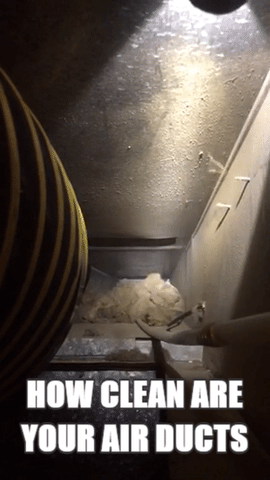 What to expect when hiring Taylor Steamer for air duct cleaning
Uniformed, polite, courteous and educated technicians
A powerful 8" vacuum (negative air) machine that pulls the contaminants outside your home into our vac unit
Protection of your home or business – Taylor Steamer will not begin cleaning until floors, doorways, and wall corners are protected.
We will create an access to the plenum to cover and protect the A coil and heat exchanger. Then we connect our 8" vacuum line to create the negative air pressure needed to remove the contaminants from your system.
After the negative air hose has been connected, we cover the supply and return vents to maximize the negative air pressure on the system and prevent contaminants from escaping the system during the cleaning.
While large volumes of air are being pulled to the furnace plenum, we feed high-pressure air hoses, with soft rubber whips or brushes attached to a rotary drill, down each vent, cleaning the supply side first then the return side.  This action loosens the contaminants from the sides of the ductwork, allowing them to be pulled down to the plenum, into the vacuum, and out to our unit.
After the vent lines have been cleaned, it is time to clean the trunk lines and plenum. We access the trunk lines through one- or two-inch holes drilled into the duct work, then scrub and blow the contaminants into the plenum and into our vacuum.
Furnace cleaning – We remove the furnace panels, blow off any dust and debris from inside the furnace cabinet (including the blower, combustion chamber, and electric motor), wipe down the interior and exterior of the furnace with a damp rag, and install a new filter( if requested).
As we go back and remove our vent covers, we wipe out the register boots and replace and refasten your vent covers.
New metal access panels are installed over the access holes we created to attach our vacuum hose and are sealed with aluminum tape, air dampers are returned to their original positions, and the floors where we worked are swept clean.
---
Additional services
Disinfectant
Benefect Botanical Decon 30-
No synthetic chemicals
No label warnings or precautionary statements
No PPE required
No evacuation of building occupants required
No rinsing or wiping required, even on food contact surfaces
Light Scent
Kills over 99.99% of bacteria in 30 seconds!
Typical disinfectants require 10 minutes contact time, which is difficult to achieve on vertical surfaces and materials. New Decon 30 solves this problem by being specially formulated to kill gram-negative and gram-positive bacteria with a more realistic contact time of just 30 seconds!
Learn More Here 
Anti-Allergy Treatment
MasterBlend Allergy Relief Treatment
Denatures allergens to relieve allergy symptoms
Works on dust mites, pet and bug allergens
Provides a residual effect for up to 6 months after application
Derived from renewable seed and vegetable sources
No pesticides, perfumes, solvents, VOC's, Phosphates, or other hazardous materials
Hypo-allergenic, non-toxic, readily biodegradable, environmentally safe.
 Allergy Relief Treatment is a water-based solution that contains a powerful active ingredient derived from naturally occurring extracts found in certain fruit and vegetable seeds. It works by denaturing the structure of the allergen, and thus, substantially reducing the Ige antibody-binding capacity of the allergen. As a result, they are no longer "recognized" by the body's immune system, alleviating the body's allergic response (allergy attack).  Provides a residual effect for up to six months, when properly applied.
Learn More Here
---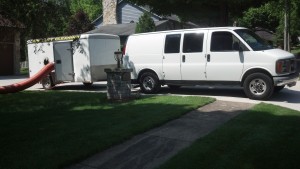 DRYER VENT CLEANING
We also offer dryer vent cleaning.  Taylor Steamer will remove lint, debris, and clogs from your dryer vents to ensure proper air flow through the venting system.  Our high-quality dryer vent cleaning services help protect your home from dangerous fire hazards while saving you time and money.
Benefits
Save time – Clean dryer vents allow air and moisture to properly escape, decreasing the time it takes to dry a load of laundry.
Save money – A clean vent allows your clothes dryer to work efficiently, resulting in decreased drying time and saving on dryer utility costs. As an additional bonus, your clothing will spend less time tumbling, which means decreased wear and tear on your garments, so they'll last longer, saving you even more money!
Improve fire safety – Removing trapped lint and debris greatly reduces the chance of a dryer fire.