HOW TO GET BEER OUT OF CARPET
With Today being St. Patricks Day, we wanted to give a helping hand to tomorrow's clean up. Normally spilled beer is nothing to truly cry over, but the liquid its self can stain and destroy even the best of carpets. Below are a few easy at home steps you can take to remove the stains and smells of beer from your carpet.
HOW TO GET BEER OUT OF CARPET – METHOD # 1
Using paper towels or a towel, soak up as much of the beer stain as you can, as quickly as you can. This will prevent the beer from being absorbed into the carpet.
Combine 1 tablespoon of white vinegar and 1 tablespoon of liquid dishwashing detergent with 2 cups of warm water.
Using a sponge that's soaked in this solution, work from the outside of the stain in, blotting the affected area of the carpet. The beer stain should begin to gradually disappear.
To remove any remaining vinegar, sponge the carpet with cold water and pat dry using a towel.
REMOVE BEER STAIN FROM CARPET – METHOD # 2
As soon as you discover the beer stain, be sure to clean up as much of the liquid as possible using a dry towel.
Using Woolite carpet spray cleaner, spray the foam onto the affected area of the carpet.
Dry with a clean towel after letting the solution sit for 10 to 15 minutes.
Vacuum the carpet to remove any remaining residue.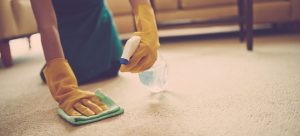 REMOVE BEER STAIN FROM CARPET – METHOD # 3
You can try this third do-it-yourself method to keep your carpet beer-stain free.
After soaking up any remaining liquid using a clean towel, take a fair amount of baking soda and sprinkle it directly on the beer stain. You'll want to make sure the entire surface area of the beer stain is covered.
Leave the baking soda to sit on top of the beer stain for 24 hours. This will help soak up any remaining smell that the beer may leave behind. 4. After 24 hours, vacuum up the baking soda. The beer stain should no longer be visible.
REMOVE BEER STAIN FROM CARPET – METHOD # 4
The best way to make sure you have a green beer stain free carpet is…
Grab your St. Patties gear.
Gather your green beer
Drive to your buddies house
Enjoy your holiday at their place instead.
All above methods will help you make sure your house doesn't smell or look like a brewery, but #4 is a guarantee. =)
But if none of the above methods work for you, give us a call and we can get it taken care of. No matter the color or brew.