Water Damage Mitigation and Restoration
Water is a key element on our planet that fosters growth and nutrition for many different things. No matter the time or the place, water damage in your home or business can be a very stressful situation. In the outside world, water helps many different aspects of life grow. But, when it comes to water flooding inside your home, it can destroy and damage a property until it is uninhabitable, if it is not addressed quickly and properly. From sump pump failures to leaking pipes even widespread area flooding, water damage is one of the most statistically probable issues you will face with you home. Here at Taylor Steamer we want you to know you are not alone and that we are here to help. At Taylor Steamer, we pride ourselves as Mitigation Specialists.  This means we arrive at a job immediately to prevent any further damage and take steps necessary to restore your property to a pre-loss condition without gutting the affected area.  We have specialized drying equipment, moisture monitors, and emergency water extraction, cleaning, and odor-control equipment to help mitigate the loss.  There are, however, many times when it may be necessary to remove drywall to access the damaged area; we take care of that too. Below you will find things to can do to prevent and address water damage within your home.
The facts –
How to prevent water damage –
The one word that makes all homeowners cringe is "maintenance," but that is the most effective way to make sure you do not experience a water loss. There will always be situations outside any one's control, but making sure that you limit the way water can get inside your home will drastically reduce your potential for a water loss. Here are a few things to keep up on to properly protect your home.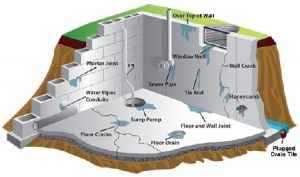 Sump pumps – many homes are equipped with them and for good reason. The main issues you will run into with your pump are caused by it failing. It can fail for many reasons, but the top two are a mechanical failure or a power failure. Regularly check your pump for performance issues, as well as set up some kind of back-up power for your pump.
If there is a leak somewhere in your house, turn the water off to the affected area and call a plumber as soon as you can. Remember, not all water losses happen overnight and require a lot of water – a small leak over a long period of time can cause just as much damage and produce mold growth.
Roofs – every home has one, but not everyone is maintained properly. We suggest, if you have a crawl space or an attic, that you check it twice a year to make sure you do not have any leaks. Again, a small leak can cause just as much damage if not found quickly.
In the event of a water loss, damage from water and bacteria growth can begin within hours.
Call for professional help

.
Do –
Call your insurance company to file a claim.
Be aware of concerns, such as electrical and water hazards, slippery floors, and sagging drywall ceilings, which could fall.
If you can, safely enter the area and locate and stop the source of the water issue; if you cannot, call a plumber.
Remove wet rugs or other floor coverings not attached to the floor permanently.(Do not attempt to remove the wall-to-wall carpet.)
Remove wet furniture cushions from the area, and place plastic under furniture legs.
Move valuables to a safe, dry location.
Call Taylor Steamer so we can dispatch a crew to your location; we will respond immediately to your call.
Do not –
Do not enter a room with standing water until the electricity has been turned off.
Do not attempt to vacuum to remove water.
Do not remove the permanent carpet.
Do not use any electrical appliances while near wet carpet or flooring.
Do not try to clean visible mold.
Do not turn on the furnace if it is in the affected area.
Do not use fans if microbial growth is believed to be present.
Do not refer to your loss as a "flood" when filing your claim.
Water damage describes a large number of possible losses caused by water intruding, where it will enable destructive processes, such as rotting of wood, growth, rusting of steel, de-laminating of materials such as plywood, and many others.
There are 3 different classes of water involved with water damage, make sure you know which one you are dealing before you attempt to start any cleaning.
Category 1 Water – Refers to a source of water that does not pose a substantial threat to humans and classified as "Clean Water." Examples are broken water supply lines, tub or sink overflows, or appliance malfunctions that involve water supply lines.
Category 2 Water – Refers to a source of water that contains a significant degree of chemical, biological, or physical contaminants and causes discomfort or sickness when consumed or even exposed to, known as "Grey Water." This type carries microorganisms and nutrients of microorganisms. Examples are toilet bowls with urine (no feces), sump pump failures, seepage due to hydrostatic failure and water discharge from dishwashers or washing machines. Often times this can include flood water that has found its way into your home.
Category 3 Water – Known as "Black Water" and is grossly unsanitary. This water contains unsanitary agents, harmful bacteria, and fungi, causing severe discomfort or sickness. Type 3 category are contaminated water sources that affect the indoor environment. This category includes water sources from sewage, seawater, rising water from rivers or streams, ground surface water or standing water. Grey Water that is not promptly removed from the structure may be reclassified as Category 3 Water. Toilet back flows that originate from beyond the toilet trap are considered black water contamination regardless of visible content or color.
When we arrive:
Extraction of the water to prevent any further damage and to contain the migrating water
Inspection and assessment – developing a drying plan
Drying and dehumidification – the use of heat (TES unit), air movement, and dehumidification (the science), and monitoring
Cleaning, deodorizing and sanitizing
Restoring the area back to pre-loss condition
Benefits of choosing Taylor Steamer:
24/7 emergency service
The ability to take care of the entire project

extraction
content manipulation
content cleaning and storage
structural cleaning and drying
reconstruction
restoring affected area to a pre-loss condition

Professional, clean, courteous, and educated technicians
Satisfaction guarantee
Work directly with insurance companies, agents, and adjusters
Directed heat drying – faster dry times, reduced overall cost, less damage
Taylor Steamer technicians are IICRC certified in water damage restoration.  This proper training program ensures that you will have experienced technicians mitigating your loss.  We have the proper high-powered truck-mount vacuum to remove the water from your home and the air movers, LGR dehumidifiers, and heated drying equipment for faster dry times.  We are also equipped with high-quality moisture meters to properly monitor drying.  We will put your living area back together for you.  We are experienced in working with homeowners and insurance companies, agents, and adjusters.